IK's Summer Strummer Special!
Big summer savings on IK's guitar software, plus free Gear Credits, and free shipping!
Take advantage of IK's annual Summer Strummer promotion and expand your guitar software horizons! From July 5th through July 31st 2018, all AmpliTube titles and in-app purchases are up to 33% off! Also receive FREE Gear Credits with registration of select IK guitar interfaces and enjoy free shipping on all orders over $/€99.99!
Read More
Welcome to Guitarist Guild
As well as having a great forum where you can discuss all things Music Gear, Guitar(s), Drums, Keyboards etc, the forum also provides the following boards, and loads more. Please check them out. That said, you don't need to be in a band, or even play an instrument to enjoy the forums. Just jump in and post anything music related. You'd be crazy not to give it a go.
What does Guitarist Guild offer?
Free Band Promotion and Gear Promotion. The more you post, the more your posts get shared via twitter and facebook. So get posting.
Enjoy, and remember, Membership to this site is free, and always will be. If you have any problems activating your account, contact me on twitter.
@GuitaristGuild
Disclaimer:
All user generated content, posts, and discussions, contained on Guitarist Guild are the intellectual property of Guitarist Guild. We reserves the right to overwrite or replace any affiliate, commercial, or monetizable links, posted by users of Guitarist Guild, with our own internal tracking.
iLoud Micro Monitor now available in white
Get the acclaimed ultra-compact reference studio monitors in a modern white finish
best-selling iLoud Micro Monitor in a modern white finish: Now you can select the color choice that best matches your home or studio set up. You will not only sound your best wherever you go - now you can also have a look that matches your style, your location, or your mood!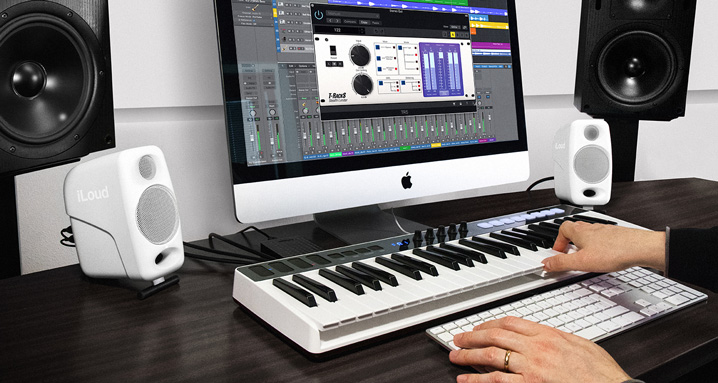 Make an impression
With an ultra- linear frequency response, best-in-class bass (down to 55Hz @ -3db), the smallest footprint and incredibly detailed sound,
iLoud Micro Monitor
already makes an amazing auditory impression. iLoud Micro Monitor has been established as the ideal reference monitoring system for tight spaces, delivering high-end sound without the high-end price. Now you have another choice to make a great visual statement with this new modern white finish. Pros and home recording enthusiasts alike are already shocked when they hear what comes out of such a compact set of studio monitors. They can't believe their ears (hint:
it's all in the design, the DSP, and the proper power amps
) - or their eyes! Now you can add eye-pleasing to the ear-pleasing experience, for only
$/€299.99.
latest guitar deals on ebay.co.uk

latest guitar deals on amazon.co.uk